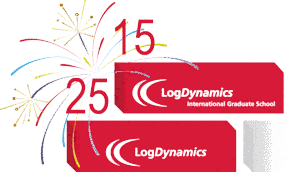 2021 is a year of anniversaries: the University of Bremen celebrates its 50th anniversary. Fifty-five years ago, the Bremen ports introduced the first container. LogDynamics has been successfully conducting logistics research in Bremen for 25 years. The interdisciplinary cooperation within the university and with external partners, such as the institutes BIBA, ISL and the Jacobs University Bremen, has become an integral part of the research and transfer landscape in the federal state of Bremen. The results of the research cluster are highly appreciated by business and science, both nationally and internationally. We want to emphasize the structured doctoral training through the International Graduate School for Dynamics in Logistics (IGS), with 50 graduates from 24 countries in the last 15 years.

We will celebrate the anniversary of LogDynamics with several activities, including a lecture series on logistics topics from different disciplinary perspectives, webinars, virtual demonstrations in the LogDynamics Lab, and intercultural encounters with the international doctoral candidates of the IGS, as well as with some alumni working worldwide. You can look forward to an exciting variety around the topic logistics!


---

The complexity of logistic networks and systems is growing in today's globalized world. Individual customers' requirements cause a significant number of product variants and services as well as shorter product life cycles. This implies new technical and economic challenges for logistic systems and processes. In order to meet these challenges, we need innovative logistic solutions that adapt flexibly to continuously changing conditions. The ability to control these dynamic aspects is essential for successful manufacturing and transport logistics. Moreover, it guarantees strategic advantages in terms of competitiveness on the world market. Because of this relevance the Bremen Research Cluster for Dynamics in Logistics (LogDynamics) strongly focuses this research area on both fundamental and applied level.

The Bremen Research Cluster for Dynamics in Logistics (LogDynamics) offers interdisciplinary research in logistic areas and a focused, structured and international doctoral program at the University of Bremen. Through research, knowledge transfer and convergence education in an international environment, LogDynamics contributes to the profile development of the young and modern University of Bremen. LogDynamics contributes also to new impulses and driving forces in the logistics sector in Bremen due to their emergencies and synergies, which leads to strengthening the economy and dynamic regional development in Bremen.