New satellite gateway for wireless sensors now available
24th-28th of April, Hannover Messe / 9th-12th of May, Transport Logistic Munich
The young Berlin company VIRTENIO, a former partner of the 'Intelligent Container' project provides now a battery driven gateway to connect wireless sensor networks over an iridium satellite link.
This device makes it possible to transfer data of sensor nodes - packed to sensitive cargo e.g. in ocean container - in real-time to the cloud, even outside the range of land-based cellular networks.
The PreonGate Iridium Gateway is part of VIRTENIO's wireless complete solution toolkit and can be used on vessel ships or remote locations nearly 2 months transmitting serveral times a day without recharging.The Gateway collects and uploads data wirelessly from up to 50 multi-sensor-cubes to the web platform.
Logistic companies or OEMs can purchase the device as part of the complete solution starter-kits. The satellite gateway and the starter-kits will be presented by VIRTENIO at Hannover Messe (24th-28th of April) and Transport Logistic (9th-12th of Mai) in Munich.
intelligentcontainer.com, March 2nd 2017
Two New Scholarship Projects Contribute to the Internationalisation of the University of Bremen
Internationality in the Spotlight
"Living internationality" in an interdisciplinary research and education atmosphere is the programme of the International Graduate School for Dynamics in Logistics (IGS) at the University of Bremen. Since mid-2005 the IGS has been offering excellent researchers from all around the world – especially from the so called "emerging logistic markets" China, Southeast Asia, Latin America as well as from Germany – the opportunity to complete an efficient, structured doctoral training programme at a logistic location of long standing tradition. Until now, a total of thirty-eight young researchers – from nineteen countries – joined the IGS. The IGS's average of 80% foreign doctoral students tops the mean number of international students in doctoral training programmes in engineering sciences. The German National Academy of Science and Engineering (acatech) awarded a prize for this innovative approach in the category "Internationalisation" to the IGS in 2011 in the competition "Best practices and new ideas to improve the doctorate in engineering sciences".
Informationsdienst Wissenschaft, December 5, 2012
Download pictures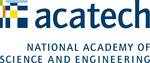 "Exceptional and Exemplary" in Internationalizing the Doctorate Training in Engineering Sciences
The concept has proven its worth, it is highly appreciated, and now the research cluster LogDynamics of the University of Bremen has also received an award for its innovative approach: In the competition "Best practices and new ideas to improve the doctorate in engineering sciences" LogDynamics won on account of its qualification program in the category "Internationalization" Today, on the 24th of May, the awards were conferred in the course of the symposium "Doctorate in Engineering – Strengths and Quality Assurance" in Berlin.
University of Bremen, May 24, 2011

The PhD Thesis of the IGS Alumnus and CRC 637 Scientist Arne Schuldt Awarded with Logistics Science Award

University of Bremen, April 26, 2010



From the PhD in the Logistics Graduate School at the University of Bremen to the Professorship in Brazil
About a year after successfully graduating from the International Graduate School for Dynamics in Logistics (IGS) Dr.-Ing. Enzo Morosini Frazzon was offered a professorship at the Federal University of Santa Catarina. After four years of doing research at the University of Bremen the Brazilian-born returns to his home country. As of 1st of August 2010 he will take up the employment in faculty of Production Engineering.

University of Bremen, July 27, 2010



Dr.-Ing. Thomas Wimmer appointed Honorary Professor at the University of Bremen
The Bremen Senator for Education and Science has appointed Dr.-Ing. Thomas Wimmer an Honorary Professor at the University of Bremen. The Chairman of the Management Board of Bundesvereinigung Logistik (BVL) will continue his lectures in the specialist field of "Applied Logistics" in the specialisation Planning and Control of Technical Production Systems at BIBA, University of Bremen.

University of Bremen, November 6, 2009