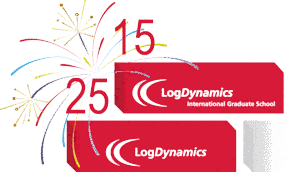 2021 is an anniversary year: The University of Bremen celebrates its 50th anniversary, 55 years ago the first container was introduced by the Bremen Ports and the Bremen Research Cluster for Dynamics in Logistics (LogDynamics) has been successfully conducting logistics research in Bremen for 25 years. The interdisciplinary cooperation within the university as well as with external partners, such as the institutes BIBA, ISL and Jacobs University Bremen, has become an integral part of the research and transfer landscape in the state of Bremen and is appreciated by business and science both nationally and internationally. In this context, the success of the structured doctoral training through the International Graduate School for Dynamics in Logistics (IGS) should also be emphasized, which has now produced 50 graduates from 24 countries in the 15 years of its existence.

We will celebrate the anniversary of LogDynamics with several activities. Among others, a lecture series "Dynamics in Logistics - 25 Years of Logistics Research in Bremen", virtual demonstrations in the LogDynamics Lab (e.g. in the context of Open Campus of the University of Bremen), intercultural encounters with the international PhD students and some alumni of the IGS working worldwide, and a book publication on the occasion of the anniversary are planned.

Look forward to an interesting variety around the topic of logistics!